So, I returned my Enormous Lash because I'm not that patient to wait 6 to 12 weeks for something to work...I'm more of an instant gratification kinda gal. I'm sure the Enormous Lash works for people who put in the time but I wasn't willing to. I wanted longer lashes and NOW...and I don't have the time for fake lashes either.
I was on
youtube
a few weeks ago and came across a video about Magic Lash... and I was impressed. I was a little scared to try it because I hate wasting my money on things that sound too good because they usually are.
This was not the case. It works!
Magic Lash is not a serum or a mascara it's small white fibers that cling to your lashes and lengthen and thicken them. You apply the wand with the fibers to just the ends of your lashes or where ever you want length.
First you must apply your mascara and right after apply the Magic Lash...you have to make sure your lashes are still wet with the mascara when you apply the Magic Lash. Repeat mascara, Magic Lash, mascara and so on until you get the desired length. I took an eyelash comb to my lashes after and they look great and are so soft and feathery!!
It was $15 from overallbeauty.com and came packaged sooooo cute with a nice personal Christmas card. Very sweet and thoughtful company. They owner personally wrote me an e-mail and sent a sample of an mineral eyeshadow.
Go to overallbeauty.com and check it out!!:)
Left side with Magic Lash and mascara and right without anything
CLICK ON THE PICTURES TO SEE BOTH EYES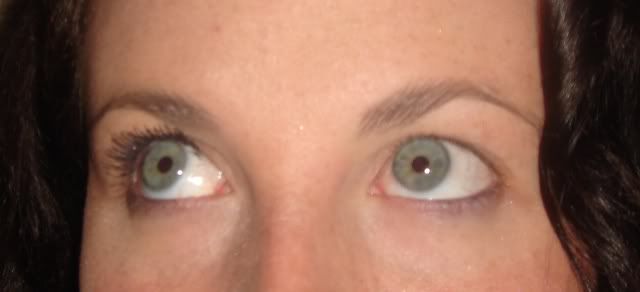 HERE IS THE VIDEO REVIEW ON YOUTUBE THAT SOLD ME ON THIS!!
http://www.youtube.com/watch?v=z8-quFM4sqU