I'm really not a big foundation gal to be honest with you but I've been wearing them more this year for some odd reason. Maybe it's because I'm getting older and I need more coverage or maybe I just was bored with using the Bare Minerials (doubt it, though..I love BM).
Here is what I have and here is what I feel about each one.
-
Smashbox HD Heathly FX Foundation in Fair F2
I just got this one and I have to say I'm quite impressed. It glides on very smoothly and doesn't feel heavy on my face. It's a light foundation but it gives very nice coverage. It doesn't have a scent so that's a plus for me. It seems to be very gentle on the face. This one so far seems to be a winner in my book. It was $38 from Sephora.
-
Revlon ColorStay in 180 Sand Beige
I really like this one. To me this seems like a MAC Studio Fix NW20 dupe except it doesn't smell bad like the MAC and doesn't break my face out also like the MAC.
This has amazing coverage! It's a long wearing foundation so that means not a lot of touch ups during the day because it lasts a long time..hence the name ColorStay!:) It's kinda thick in the consistancy but doesn't feel cakey or drying on my face. It doesn't really have a scent either... I'm very please with this one as well.
Around $10 from the drugstone
-
MAC Studio Fix Fluid in NW20
Why I keep using this is beyond me! I will be nice and say it does give great coverage however... it smells HORRIBLE!! The first day I tried it I had a headache from it. That's not good! This stuff breaks my face out BAD. It's not like normal pimples either.. I can't even explain it...they are like deep under the skin and just stay there... like a hard bump...gross!! I've heard other people say this foundation broke their face out with weird pimples, too...two of which were my sister in-laws who were using this as well. Time to chuck this one I think.
-
L'Oreal True Match in W3 Nude Beige
I've had no problemos with this one! It's a very nice color and gives medium coverage and feels light on the face. This has no scent and I've had no problems with this one breaking me out. I don't normally grab this one but I really should. It's a very nice CHEAP foundation. Cheap in price but not in quality!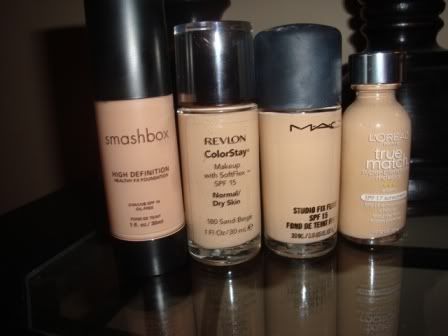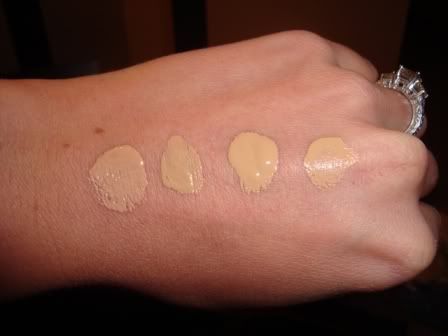 From left to right- smashbox, ColorStay, MAC, L'oreal