Tonight my mother in-law gave my husband and I a gift card to Khols. My in-law's come over every Friday so my husband and I can have date night. We were trying to think of something fun to do without spending a lot of money. My mother in-law told us to go to Khols and split the gift card and see who could get the best deal for our money. I was off to the make-up section!:)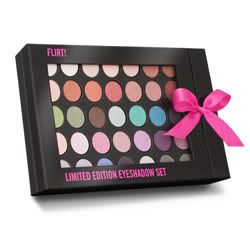 I found this awesome 40 shadow Palette by Flirt! Let me tell you... it's awesome! Ten times better than the Coastal Scents.. at least I think it is. The colors are soooo beautiful and very well pigmented. They go on great and stay on beautifully! I'm really excited about this palette. There is every color in the rainbow plus some.
This was on sale for $22 and the Flirt shadows usually run around $10 each. This palette also came with a huge gift bag but I gave mine to the girl working the register because she really liked it a lot and it was the last bag.... so I told her "Merry Christmas" it was all hers... personally... I didn't think it was all that cute but shhh... don't tell her.
This is WORTH getting!! Seriously! Hurry hurry.. it's Limited Edition!
Here it is at Khols
http://www.flirtcosmetics.com/templates/products/sp.tmpl?CATEGORY_ID=CATEGORY6756&PRODUCT_ID=PROD14363